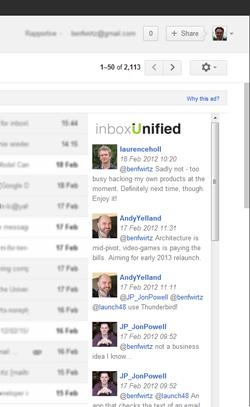 During Launch 48, this weekend in London, Inbox Unified was born. The Gmail plugin for Twitter DM´s in your inbox makes life simple.
We focused on executing the plugin for the Chrome browser to start, during the first 48 hours and are proud to launch it in the Chrome store.
Team: Ben Wirtz (idea), Imran Ghory (dev), Piotr Pisasz(business), Shakir Ali (dev) and Heidi Harman (UI/design).