I recently started working on an autumn project with the the amazing team at TheGivingLab, an R&D department at a charity aiming to find new ways of giving with Charity API's, a project funded by NESTA amongst others.

When it's a given that chuggers (charity muggers) hasseling you on the street for a signup doesn't really work, and neither does starving babies on posters, we need to go further than choosing between several old-fashioned ideas of giving, making place for contemporary ideas.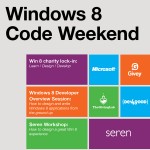 By early 2013 we aim to have 5 launched ideas proving that charity API's is the way to go and we are inviting developers, designers, UI/UX and idea-creators to a series of Hack Days we are running this autumn.
We aiming to hack together asquirky and loving ideas as possible like last week we already worked with Windows8 Code Weekend and Dev4Good, read more about the ideas here.
TheGivingLab has 3 more hack days coming up this autumn, here are the confirmed ones:

Mark 13+14th of October in you calendar.

Games 4 Good, with TIGA (International Gaming Association) at Birmingham University 17+18th of November.
TheGivingLab Charity Hack days at GoogleCampus on the 24+25th of November. The Theme is #holidayHack 
Links to the previous and already hosted Hackathons: