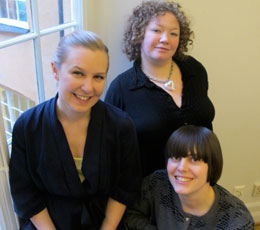 Proud to present, GeekGirlMeetup was featured in the leading Swedish daily newspaper Dagens Nyheter wednesday last week, with almost 70 hits per minute during lunch time, and hundreds of comments, and still the top ten after a week, that is what DN calls, popular.
The title was changed a few times, and from GeekGirls Sweeet Revenge(.jpg), loosley miss-interpreted to Sweet Geek Girls Revenge(.jpg). It was later, more correctly called, "The Dream Network (.jpg)" on the front side of the economy section.
With no one to take revenge upon, we are happy about the the article as it communicates the our aim with new networks and local rolemodels within internet, code and startups and creating the future we need and want for women in the tech scene.
Lina Thomsgård at Rättviseförmedlingen also added us up on the list of internetexperts, entrepreneurs for seminars, panels and juries. Thank you @LinaT!
2 students from the University are writing their final thesis about GeekGirlMeetup as a phenomenon, exciting! More about this later.
TALKING ABOUT FEAR AND ANGER AS CONSTRUCTIVE FUEL
I am remembering how important it is to use your your fear constructively after discussions with musican Rebekka Karijord, who adresses it more like "Wear it like a crown", and yet did this fantastic interpretation of my favourite "Smells like teen spirit".

(And i promise to never be late for dinner again)
The Egyptian election makes me remeber my visit to Egypt with the Swedish Institute. To sum it up im linking in Måns Adlers startup, Bambuser tweet on the democratic importance of his start up service Bambuser.
I also cant seem to forget the Harrasmap that both me and Joakim Jardenberg listened to as we were both speaking at the YLVP´s Cairo Social Media Cafe this passed month. @jocke sums it up really well.
Jardenberg also disses the new apps for the iPad, by the major Swedish Media houses, and wether i agree or not I am suggesting some Margret Wheatly reading of  for the people in charge of the apps, preferably Leadership and the new Science.
WIKILEAKS AND ASSANGE

@brokep micro finance focused startup Flattr makes it possible to donate to whatever you like.
[Edit: this is not avaliable anymore, as Flattr was based on a Paypal Plugin. More about that at TechChrunch, via The Guardian]