The fith GeekGirlMeetup conferance with the theme GameOn was wonderful, and as the theme suggests playfull. An ode to the teams pulling this of, we wouldnt have done this without you!
The program team:
Miriam Ohlsson @miriamolsson
Maria Sjöber @nefalia
The streaming team:
Lead Streamer, Emma Koszinowski
Natalia Medina (thanks for graphics)
Ingela Hjulfors Berg
Anna VGA
Lisa Carlbom
Agnes Attling
Ingrid Karin Holmberg
Jenna Jonsson
Maria Ekman
Monika
Joana
Ida Pettersson
Karolina Brantås
The Organizational team
Chief organizer, Maria Söderberg @mariasoderberg
Lead Designer, Natasha Ehlen @natasha_sthlm
Koordniator and PR, Josefin Nässil @josefinnassil
Afterparty eventorganizer, Jeanin Day @jeaninday
Co-founder and Sponsorships, Heidi Harman (thats me) @heidiharman
I was sick during the whole thing, with 39° but it was ok. I summed up our history during theese two and half years in a talk, trying as well as possible to mirror our development, aim, results, wishes and dreams. We also had  Malmö´s founder Anna Oscarsson up on stage. The Danish founder Henriette Weber, and Mexicos Oyuki Matsumoto joined in by Skype.
Twingly liveboard day one!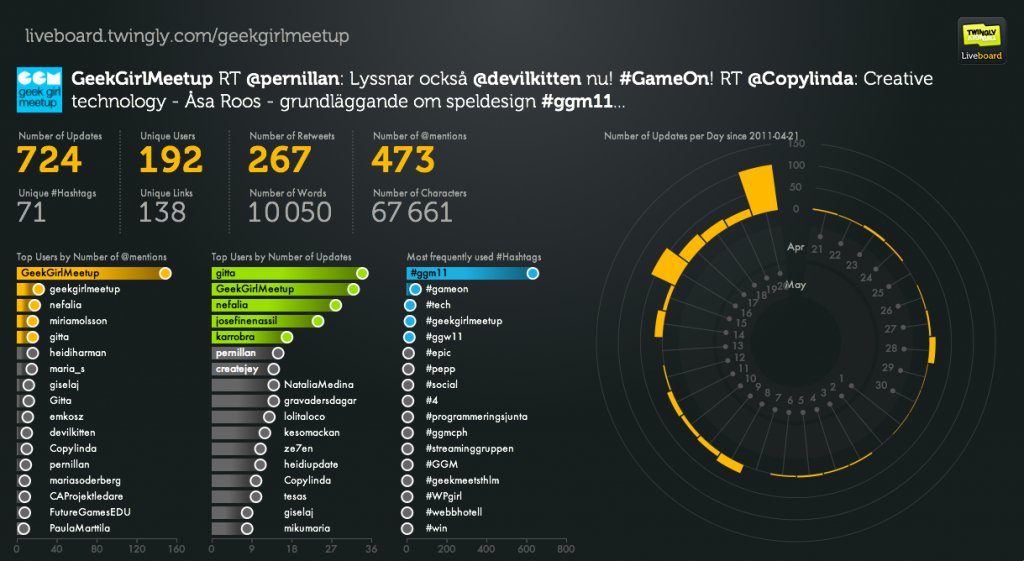 Twingly live board a week after: